About Allstyle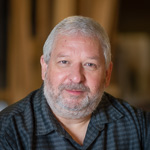 Drew Gall - President
Our mission is to manufacture customized high end solid wood products that result in showcase quality kitchens, bathrooms and closets. We build our products right, using the best materials and equipment available. Collectively our staff has a century's worth of experience and it shows in the result. Not only are we building your products but we are building a relationship and a reputation with each sale.
History
Allstyle began in 2005 producing high end wood doors for professional cabinet shops and renovation contractors. In 2015 we opened a retail showroom and began offering finished doors to retro-fit IKEA's cabinet system as well as doors for do-it-yourself projects.
Our staff is highy experienced in the manufacture of wood cabinet doors and millwork components. We purchase and stock the highest grades of lumber in the market. We cut, machine, process and sand all components in house. We manufacture our own center panels and produce our own mouldings. We have complete control over the quality of each component of our cabinet doors. We use heavy duty professional machinery and customized tooling.
Service Area
Our factory is located in Mississauga, Ontario Canada. We service the GTA (Greater Toronto Area), including Oakville, Brampton, Bolton, Markham, Scarborough, Hamilton and Burlington. If you are located in the GTA a salesperson can visit your shop to provide on-site service. For customers in outlying areas we provide excellent phone support and offer third party shipping services.
Pricing
All orders are quoted. We do offer discount on volume purchases.
Payment
To create your custom made product, a payment in full is necessary for orders under $500. Orders exceeding $500 require a 50% deposit, with the balance due upon pickup or delivery. Our preferred payment methods include electronic funds transfer (EFT) or Interac e-Transfer, and we also accept Visa or Mastercard with a 2% processing fee. Commercial cheques are accepted, but personal cheques are not.
Delivery
We have our own drivers and delivery vehicles to get you your order quickly. If you are not in the GTA we can crate and ship anywhere in Canada or the United States.
Warranty
Allstyle guarantees its products to be free of defects in material and workmanship for a period of one year from the date of delivery. Warranty is limited to the replacement of the defective item only. We will not be responsible for third party finishing costs, installation, delivery, etc. This warranty does not apply to product damage resulting from improper storage, improper handling, extreme humidity changes or finishing issues.
Please inspect shipments upon arrival. If any shipping damage has occurred, please report immediately to our customer service team. We recommend taking photographs of damaged items immediately. All claims for shipping damage must be made within five days and the items must be available for inspection by the carrier.
Order Cancellations / Deposit Returns
Our ability to accept an order cancellation is dependant on the stage to which an order has advanced. The purchaser is responsible for costs (engineering, material and labour) incurred up to the time of cancellation request.
Regarding a request for deposit refund, the Purchaser is responsible for design and engineering costs which will be deducted from the deposit amount. The deduction is typically 10% but may vary situationally.
Home | About Us | Products | Contact

ALLSTYLE CABINET DOORS ©2005-2021