Firewood for Sale
Firewood sells fast when it gets cold. We have a limited supply and it is sold on first come, first serve basis.
We sell bags of hardwood firewood. The bags hold 20-25 pounds of wood. This wood is kiln dried and burns excellent. We produce the pieces of wood as part of our manufacture of cabinet doors. Sometimes we end up with wood pieces that are too small to make products. So we bag it up because it burns excellent.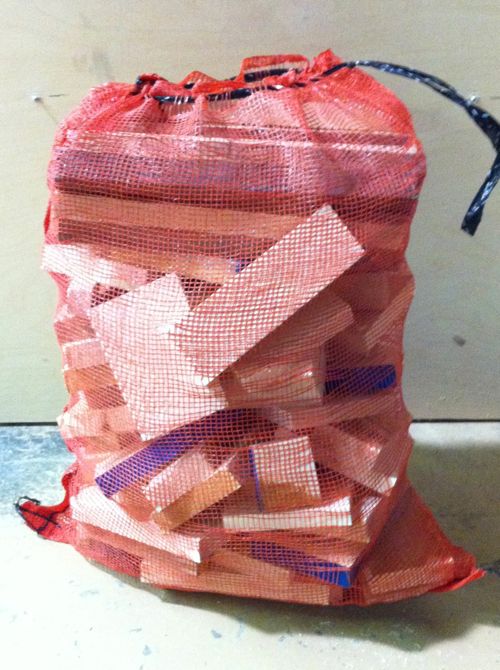 The wood is kiln dried Maple, Oak and Cherry. The bags contained mixed sizes averaging about 3/4" thick, 3" to 6" long and 1" to 5" wide. This wood starts easily and burns hot. It is ideal for wood stoves.
Use as kindling, starter or just burn it.
The retail price is $8.00 per bag but we do sell this factory direct at a wholesale price of $4.00 per bag with a 10 bag minimum.
Our quantities are limited and are sold on a first come, first serve basis.
Buy and burn or resell for profit.
The wood is located at our factory near Pearson Airport.
Wood is available Monday - Friday 9AM - 3:30PM.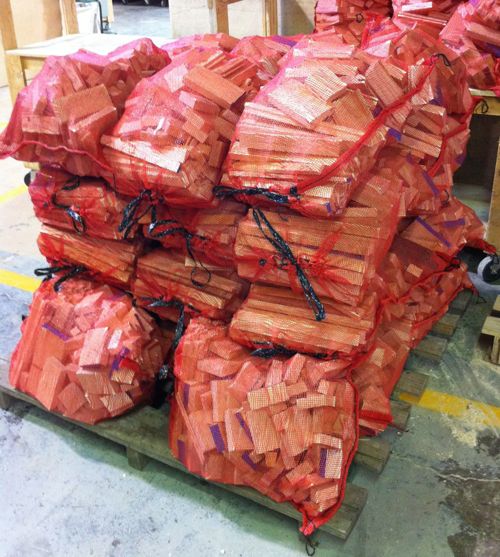 Frequently Asked Questions
Question: I'm looking for some, but longer pieces instead of the cube style ones I got before. Do you have any?
Answer: We do have large carts of long strips at $30 per cart. The strips are 8-10 feet long but awkward to load and transport. You will need a cargo van, box truck or pickup truck to transport. We cannot offer cutting service as our shop rate is simply too high for that to make sense. However, if you can load, transport and cut - it's the same great wood, kiln dried and excellent burning. If you decide to purchase the strips bring gloves to load to avoid splinters.
One cart = one pickup truck load. A great deal at $30 if you can load and transport.
Some people take the long lengths for use as garden stakes and tomato poles.
Question: Some of the wood pieces have colour on the ends. Why?
Answer: Lumber mills mark the ends of their bundles for easy indentification in the lumber yards and through distribution. The marking is safe, waterbased, and non-toxic. When we cut end of the boards the marking remains on the wood. The marking does not affect the heat nor flame characteristic of the wood as it burns. There is no odor, change in fire colour, nor colour in the smoke resulting from the marking.