Glass Cabinet Doors
We manufacture glass cabinet doors to match virtually every door style in our product line. A glass door uses the same stiles and rails as a cabinet door but with no center panel. The back of the door is routed out with a ledge (typically 10mm) to accomodate a piece of glass. Glass is typically held in place by silicone.
Allstyle does not supply glass because there are so many varieties of glass available. We recommend you purchase your glass from a local supplier that is specialized and can provide you with many options, samples and advice. We recommend 3mm thick glass.
A Glass Door Explained
The frame - the wood around the perimeter of the door
The mullions - the cross pieces of wood that divide the open space
The lites - the divisions of open space created by the mullions
The mullions are usually installed so that the lites are symmetrical.
Allstyle manufactures our own mullions so they match the inside profile perfectly.
The mullions are typically 3/4" (19mm) or wider. They are this width so that a shelf, which is typically 5/8" or 3/4", can be positioned behind the mullion for the best appearance.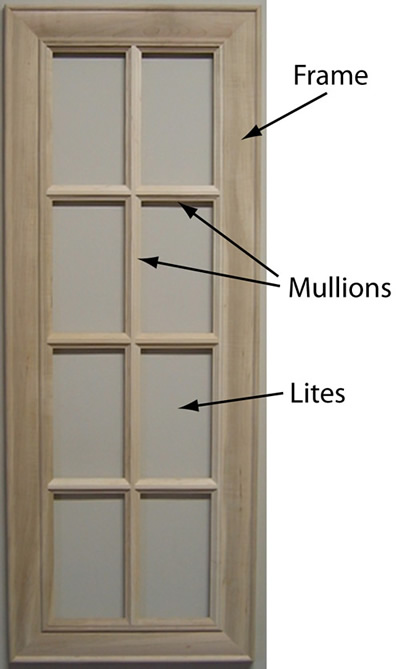 If your project requires the mullions in a custom position this can be done by requesting "custom mullion" and supplying us with a dimensioned drawing or sketch.
Making a Glass Door
Making a glass door properly is labor intensive. The mullions are made in length with a profile machined into both sides that matches the frame exactly. The lengths are then measured, cut and fit by hand. Each mullion must be machined to mate exactly with the profile on which it connects. Once all of the pieces are fitted then they are glued into position individually.
Allstyle does not use pins or nails to secure the mullions. Exposed pins or nails are unsightly and must be puttied or filled which can detract from the door's appearance.
Next the back of the door is routed and blocked so that it is ready for glass. Once the glue is set all the mullions are face sanded to bring them level with the door frame. Finally each mullion is inspected and lightly hand sanded.
Pricing a Glass Door
An open frame glass door will price out the same as a flat panel door of the same size. The material savings resulting from the absence of the plywood center panel is offset by the additional selection required of the lumber which must be perfectly straight as well as the extra labor to rout and block the frame in preparation for glass.
Doors with mullions are priced per lite. The more lites the more expensive the door becomes.
Glass Door Configurations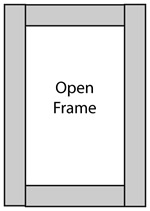 Open Frame (One Lite)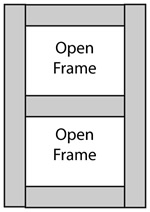 Double Open Frame with Center Rail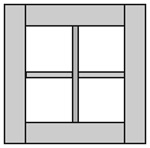 Four Lite Frame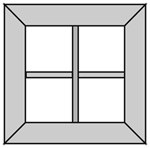 Four Lite Mitered Frame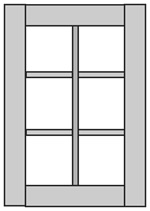 Six Lite Frame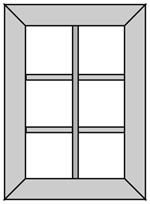 Six Lite Mitered Frame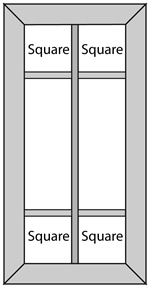 Six Lite Mitered Frame (Square Corners)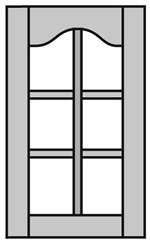 Cathedral Top Six Lite Frame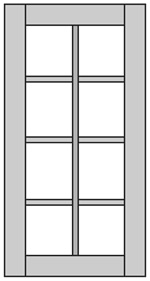 Eight Lite Frame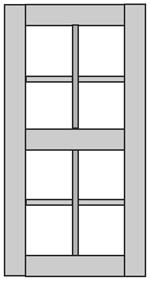 Eight Lite Frame With Center Rail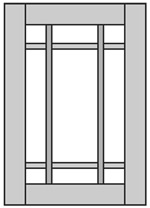 Nine Lite Frame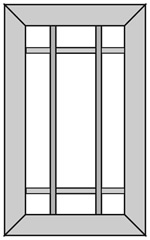 Nine Lite Mitered Frame